Our People
McFall Fuel's family values and beliefs are reflected by the dedicated team.

We set very high standards for ourselves and each other by working together (teamwork).

We take pride in all that we do just as any family would.

Our team not only contribute to the McFall Fuel customers but also to the communities within which we live. Many coach teams or are involved in charities or schools or other community activities just as McFall Fuel chooses to be.
---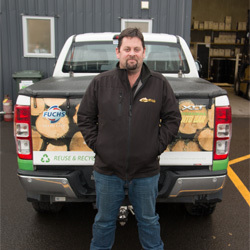 Andy Fullerton
Position Tank Asset Manager
Andrew Fullerton a former farmer is the Lubricant Logistics Manager. He is responsible for forecasting the lubricants required and overseeing the deliveries of these to the customers. Andy is the person who got McFall Fuel involved in the Ronald McDonald House Visits and he also plans the Bush Breakfasts for customers. The father of four boys likes being out on the road and working with customers.