In the Community
As a family business we're all about being involved in the communities within which we work and play and so McFall Fuel look to support community groups in a variety of ways.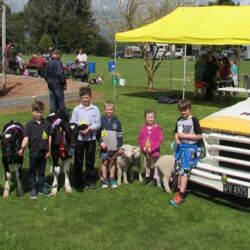 Supporting staff and customers who live and work in the communities we deal with is a real positive. Calf Club Days usually held over September through to November are really enjoyed because the youngsters go to a lot of effort for the day. It is often a community fundraiser as well.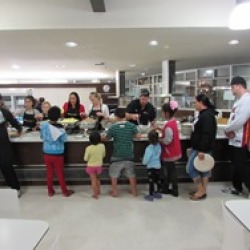 The McFall Fuel Team cook for the families staying at the Domain Road House in Auckland three nights a year. This staff driven initiative came about because of what a staff member experienced in their family's time at Ronald McDonald House while they supported a family member in Starship Hospital. Volunteers come from the Mcfall Fuel Team to help with the preparation of the food, the cooking of the meal, and the clean up as well as often supplying home cooking. Customers and suppliers have also offered their help and servcies. Taylor Brothers Transport and Mount New World make regular donations to support this humbling team effort.
Trust Power TECT Rescue Helicopter & Rapid Response Vehicle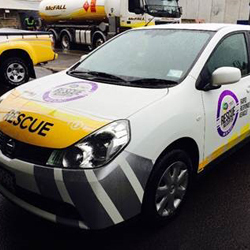 McFall Fuel is proud to be recognized as a friend of the Trustpower TECT Rescue Helicopter and are the supplier of the Rapid Response vehicle for the team so that they can to get to emergencies quickly and safely. It is such an invaluable community service and just like so many other businesses should the situation arise, people in urgent need can be reached quickly and treated immediately which is important. The great majority of the McFall Fuel staff cover many kilometres each day to reach customers who are often working in quite remote locations. The service provides these communities and businesses that we work with and in, with that safety net when accidents occur and time is critical.
Life Education Trust Waipa King Country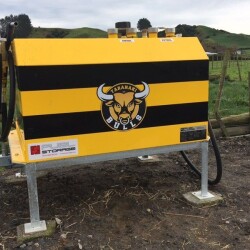 McFall Fuel have supported the Life Education Trust in this area for a number of years. We fuel the teacher's vehicle and the mobile classroom each year to help with the costs of running such an effective educational programme.
We support a range of customers with sponsorships from time to time. These relationships in some instances provide benefits for other customers or provide support for groups working within our target markets.
Bay of Plenty Steamers Rugby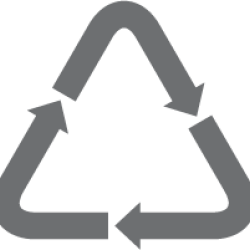 We are proud to support Bay of Plenty Steamers as part of the Corporate Hospitality in Rotorua and Tauranga.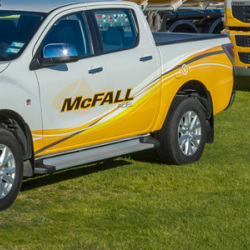 McFall Fuel is supporting Good Neighbour Tauranga in partnership with BP2Go Summit. The Good Neighbour Trust is working to make a positive difference within the Tauranga Community. Building better relationships through simple acts of kindness and generosity sees the Trust involved in Food Rescue, Community Gardens, mowing lawns, and getting firewood as part of their commitment to helping neighbours transform their communities.
Forest Industry Safety Summit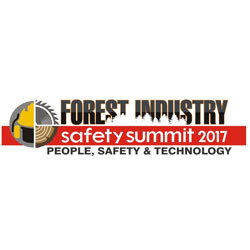 Involvement with the Forest Industry Safety Summit Conference began in 2015. McFall Fuel are very keen to work with the Forest Managers and Owners, along with their forestry customers to ensure that we achieve the desired health, safety, and environmental practices that are the best possible for the forestry industry. This Conference also aligns extremely well with the McFall Fuel Value – Zero Harm – No Accidents, No Harm to People, and No Harm to the Environment.
We are proud to support Taranaki Rugby with a match day sponsorship.
Trent Amrein & Kacey and Clinton Cheetham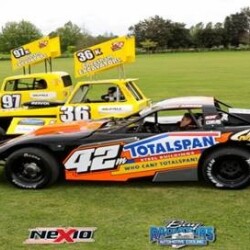 Proudly sponsoring these young racers in Stock Cars and a Saloon car.
This is a longstanding relationship with another family based company. The Agricultural Contractors who attend get the benefit of industry updates as well as exposure to top flight speakers and entertainers.
Pirongia Boxing Day Races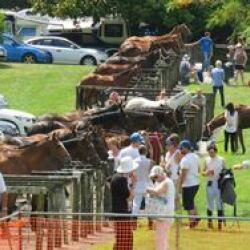 McFall Fuel has supported this historic community event for a number of years. The long term relationship sees a race sponsored annually. The iconic racing club is the oldest running racing club in New Zealand. 149 years with the racing only interrupted in five of those years — two world wars, the polio epidemic, and the weather. The Pirongia Boxing Day races have seen crowds of up to 15 000 on days when the weather is kind. The club has a very dedicated band of locals who are aiming to celebrate their 150th anniversary in 2015. This is the year following the 2014 commemoration of the Waipa District 150 year anniversary which saw the Pirongia Boxing Day races will mark the end of the celebrations.
Like all good families McFall Fuel offer sponsorship opportunities for the staff and their immediate families.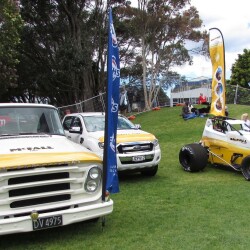 Peter Laird, a general hand for Lubricant Logistics, is very involved in the Wheels on Mainstreet held in Mount Maunganui at Labour Weekend annually.
McFall Fuel enjoy supporting the event because it is a great event for families and the funds raised go to a chosen charity. Held in Coronation Park for the first time in 2016 it is likely to continue in the park with its beautiful trees.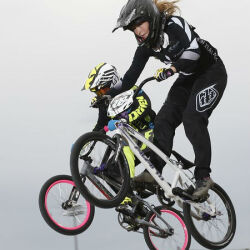 McFall Fuel are so proud to be a sponsor of Rebecca Petch in her quest to become a World Champion. She is currently ranked World 7 on UCI points for elite women. These results have seen her selected to be apart of the High Performance Program as a Carded Athlete! The young athlete is now challenging Sarah Walker in races and is learning with each one. Like any young athlete taking a win from a champion is exciting and Rebecca is beginning to manage that. We look forward to seeing her reach the heights in the future.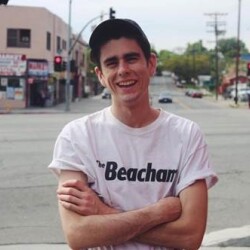 Leroy aka Taste Nasa is a musician who has taken a chance and gone off to the USA to see what he is able to achieve in the industry. When he first travelled to Los Angeles he toured the country in the band Strange Babes supporting The Naked And Famous, signed a record deal for his second EP and locked in a publishing deal as a writer and producer which will see him remain the the USA for a number of years.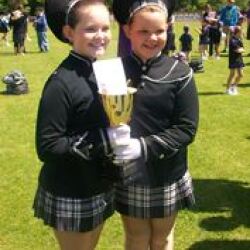 Stella and Talulla-Belle who competed in the New Zealand Marching Championships, held in Christchurch came home as the New Zealand Champion Team. The Railfreight Cavaliers Under 12 Marching Team competed against 15 teams in their age grade and took the total sweep of the titles on offer—New Zealand Champion Technical Drill Team and New Zealand Champion Display Team which saw them as National Champions.
The McFall Museum has been a labour of love for Morris for many years. Each car, tractor, and stationary engine has been restored completely to their former glory right down to the paintwork. Growing up on a farm the Nuffield Scholar and Sir Bob Owens Award winner has made a significant contribution to the communities within which he has lived and worked. Morris is always to willing to share the stories about everything held in the Museum.
The McFall Museum has an exciting collection of vintage tractors, stationary engines and classic cars—all in working order. Bookings need to be made to the Museum on 0800 623 255 or by calling 021 995 820.




Lanz Bulldog
The Lanz Bulldog built in
1938 in Mannheim Germany.
After 40 years in business
Lanz were taken over by
John Deere in 1960.



Field Marshall Series II
This tractor is started by using
shot gun cartridges and is fully
operational. Hearing the engine
burst into life following the loud
crack is quite something.
Manufactured in Gainsborough
in England in 1948 it was shipped
to New Zealand and sold to the
McCullough's of Temuka for
865 pounds.