McFall People
McFall Fuel's values and beliefs are reflected by the dedicated team. We set very high standards for ourselves and each other by working together and taking great pride in all that we do just as any family would. Our team not only contribute to the McFall Fuel customers but also to the communities within which we live. Many coach teams or are involved in charities or schools or other community activities just as McFall Fuel has chosen to do.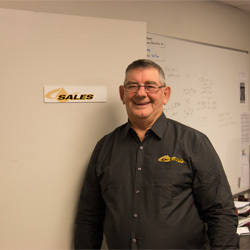 Peter Jones
Position Sales Support Forestry
Peter began working for McFall Fuel in 1999 in the Lubricant Sales area for which he has a passion. Now in a part time role Peter is looking after a few key clients as well as taking on a range of projects to support the sales team. In his day Peter played second five eighth for Manawatu and even had the privilege of playing against the All Blacks. He now follows all sports and continues to play bowls.