McFall People
McFall Fuel's values and beliefs are reflected by the dedicated team. We set very high standards for ourselves and each other by working together and taking great pride in all that we do just as any family would. Our team not only contribute to the McFall Fuel customers but also to the communities within which we live. Many coach teams or are involved in charities or schools or other community activities just as McFall Fuel has chosen to do.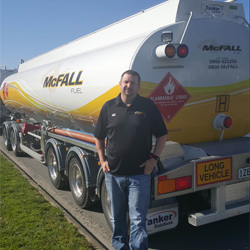 Scott Jeanes
Position Logistics Manager - Te Awamutu
Scott's passion is flying and he is a part owner in a Yakovlev Yak-52 which is a Soviet primary trainer aircraft. Living on a quarter acre with his family in Pukeatua Scott is the Logistics Manager for McFall Fuel. Scott is great at ensuring that the preparation of any addition to the fleet from set up to branding is nothing short of outstanding.