McFall People
McFall Fuel's values and beliefs are reflected by the dedicated team. We set very high standards for ourselves and each other by working together and taking great pride in all that we do just as any family would. Our team not only contribute to the McFall Fuel customers but also to the communities within which we live. Many coach teams or are involved in charities or schools or other community activities just as McFall Fuel has chosen to do.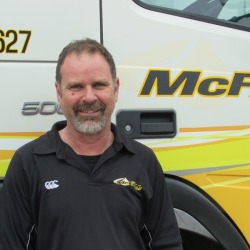 Tony Davies
Position Fleet & Forestry
Tony began with McFall Fuel prior to Direct Fuels where he has had almost eleven years in various roles because he can so ably turn himself to anything which sees him as a real asset. The Fleet Coordinator is a keen trout fisherman and the staff at Hocking Street are always look forward to the delicious smoked trout that is caught in Lake Taupo. Tony has a small farmlet in Ohauti which he loves to retreat to.