News
INAUGURAL PARAFED FESTIVAL A HUGE SUCCESS
27 March 2018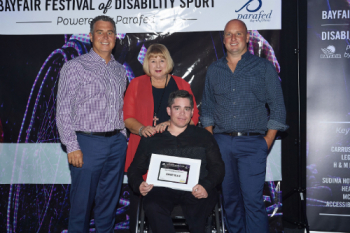 The winner of the McFall Fuel Wheel Chair Basketball Award 2018 Johnny Blaze is pictured with Todd Pelham, Sheryl Dawson & Evan Fagan. Johnny was the Wheel Chair Basketball Ambassador for the event.
2017 was gearing up to be a phenomenal year for Johnny, he was achieving great things in his Sport and Recreation Degree and was living up to his nickname Blaze. Always being the fastest player on the court in wheelchair rugby and wheelchair basketball. Last year, during the Wheelchair Basketball nationals, Johnny developed a blood clot in his groin which ended in the loss of his left leg. The recovery certainly did not go to plan. But, Johnny is a fighter and he is to be admired for the determination and ongoing contribution to disability sports.
Johnny was extremely surprised to win the inaugural McFall Fuel Wheel Chair Basketball Award 2018 and said his heart began to pound as the citation was read out. His journey has been amazing one but he has never given up. He is to be admired for his willingness to help others, and be such a great role model. It was clear there was no more deserving winner by the reaction of those present at the Awards.