Our People
McFall Fuel's family values and beliefs are reflected by the dedicated team.

We set very high standards for ourselves and each other by working together (teamwork).

We take pride in all that we do just as any family would.

Our team not only contribute to the McFall Fuel customers but also to the communities within which we live. Many coach teams or are involved in charities or schools or other community activities just as McFall Fuel chooses to be.
---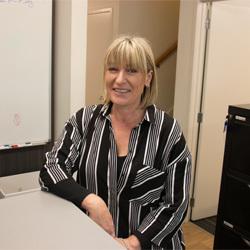 Shona Thompson
Position Finance & Administration Manager
Shona leads the Finance & Administration Team having worked for Direct Fuels for 16 years, 3 years prior to the McFall Family buying the company. She is a keen supporter of professional development for her team and sees how vital being strongly customer focussed is for the business. Shona enjoys having time with her family, particularly with her grandchildren.