Our People
McFall Fuel's family values and beliefs are reflected by the dedicated team.

We set very high standards for ourselves and each other by working together (teamwork).

We take pride in all that we do just as any family would.

Our team not only contribute to the McFall Fuel customers but also to the communities within which we live. Many coach teams or are involved in charities or schools or other community activities just as McFall Fuel chooses to be.
---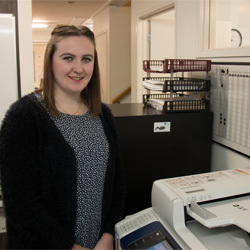 Erica Davies
Position Customer Account Services
Erica Davies is a graduate of the BOP Polytechnic and as a student worked part time for Direct Fuels before becoming fulltime. She enjoys racing cars and plays in the Staff Indoor Netball Team.