Our People
McFall Fuel's family values and beliefs are reflected by the dedicated team.

We set very high standards for ourselves and each other by working together (teamwork).

We take pride in all that we do just as any family would.

Our team not only contribute to the McFall Fuel customers but also to the communities within which we live. Many coach teams or are involved in charities or schools or other community activities just as McFall Fuel chooses to be.
---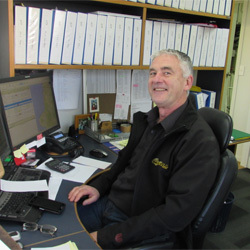 Paul Clampitt
Position General Manager Operations
Paul a heavy automotive engineer by trade moved to the Waikato in 1988 and raised three sons on a 1 acre Pirongia property. All 3 boys have a love of music and Paul is looking forward to learning to play the banjo and the harmonica. Paul, loves the summer spending time fishing on both coasts. The grandfather of one began work for McFall Fuel in 1996. As Operations Manager Paul oversees the fleet for McFall Fuel and takes great pride in having a first class fleet of trucks & drivers on the road, meeting the high standards of performance desired. Enjoys working with a very professional group of people across all teams.
Paul Clampitt, General Manager Operations, McFall Fuel based in Te Awamutu demonstrates the fuel delivery process from collection at the gantry at one of the terminals in New Zealand to the delivery to the customer on site.