News
RECYCLING LUBRICANT CONTAINERS MADE EASIER
14 December 2017
An exciting moment for the Lubricant Logistics Team at McFall Fuel with their new wash machine to help with the recycling and reuse programme. The old machine held 4 x 20 litre containers and the new spin wash machine holds 14 x 20 Litre. The Apollo Power Washer will help speed up the Recycle & Reuse significantly. McFall Fuel has always been focussed on no harm to the environment. Time is...
SURF LIFE SAVING LOOK AFTER FUEL CUSTOMERS IN TARANAKI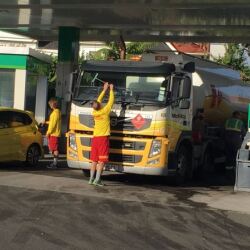 12 December 2017
It is that time of the year when the beaches become crowded and the need to raise funds to save lives becomes a necessity for local surf life saving clubs. Here we see the fund raising action at BP Powderham in Taranaki. McFall Fuel driver Ian James made sure he got the treatment on his windshield while fuelling...