News
MCFALL FUEL BEHIND MATAWAI SCHOOL AG DAY
27 November 2018
Taliya Barbarich parades her lamb in the small lamb section of the Matawai School Ag Day, supported every year by McFall Fuel. The Matawai School annual Ag Day has been going longer than anyone can remember at the 110-year-old school and in recent times McFall Fuel has always come on board with its generous donation of food for sale. Sixty children attend the three-teacher school which draws...
WINNERS OF BEST TRADE EXHIBIT AT WAVERLEY SHOW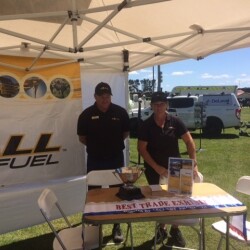 18 November 2018
McFall Fuel were proud to win the best Trade Exhibit at the Waverley Show. Commercial Team Representatives Andrew Sorensen, Kylie Northcott, and Greg Prouse took great pride in the way they set the site up and it paid dividends. "I am sure it came down to Andy and Kylie adjusting things by millimetres," said Greg Prouse. "It looked great." (Andy and Kylie are pictured...