News
MCFALL FUEL BEHIND MATAWAI SCHOOL AG DAY
27 November 2018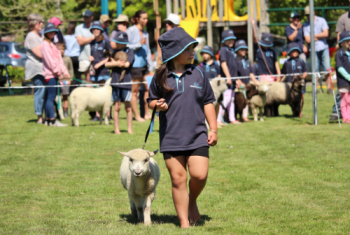 Taliya Barbarich parades her lamb in the small lamb section of the Matawai School Ag Day, supported every year by McFall Fuel.
The Matawai School annual Ag Day has been going longer than anyone can remember at the 110-year-old school and in recent times McFall Fuel has always come on board with its generous donation of food for sale. Sixty children attend the three-teacher school which draws kids from as far as Te Wera, Te Karaka, Waioeka Gorge, Otoko, Motu, and Rakauroa.
Principal Glenn Knight says Ag Day is part of the schools' character. "Children have an opportunity to exhibit the lambs, dogs, and goats they've raised themselves and parade their animals." This year was markedly different with no calves making appearance in line with bovine best practice. There was however one guinea pig!
As per usual the sausages and bread donated by McFall Fuel were a huge hit with the kids and spectators with all profits generously donated back to the school. McFall Fuel Gisborne Sales Representative Rochelle Smith is the ongoing contact for the school and we really appreciate her support, says Matawai School principal Glenn Knight. "The distinctive yellow and white trucks are a regular around here and your continued support means our families stay connected with your brand and your staff for more than just fuel and lubricants."
"On behalf of the school I want to thank Rochelle and her team for the ongoing relationship."
Credit: Carole Redpath