News
42M Steps It Up A Gear
18 December 2019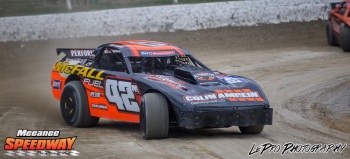 "Wow what a week last week, only getting the new motor in on Friday morning for racing Saturday at Napier.
1st Race off grid 1, not knowing how the new motor was going to handle, wow, it handled well, and crossed the finish line 1st, with at least 2 car lengths.
2nd race off grid 14, worked my way up to 4th, with only one & half laps to go, car behind me hit my right rear tyre, giving me a puncture, lost a few spots, and finished about 7th on a flat tyre.
That put us in the top 6 for shootout, finished 5th, so that put us off grid 5 for the final.
Car was going great, climbed up to 2nd, but track slicked up too much for the car, and lost 1 spot to finish 3rd overall.
Absolutely wrapped with the new motor, just a few teething problems to sort before our next meeting on the 2nd Jan 2020, at Waikaraka.
Then we're at Baypark on the 4th Jan 2020. So much happening," said the 42M Team.