News
AIMS Games
9 September 2015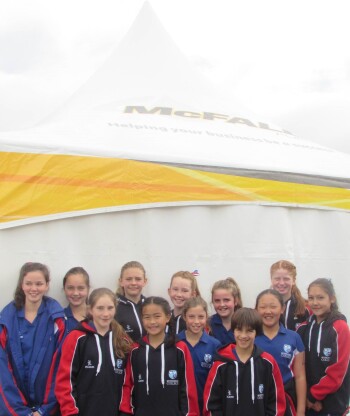 The AIMS Games held in Tauranga this year have seen well over 8,000 competitors vying for titles in a wide range of sports. Like so many other businesses around the country McFall Fuel has in one way or another become involved in the largest event in Australasia.

On Sunday, Managing Director Allan McFall's daughter Anna competed for Aquinas College in the Cross Country held at Waipuna and then on Monday first up there was Bella Broadmore, daughter of Area Sales Manager Warren Broadmore, competing for Aquinas College in the Water Polo at Baywave. Area Sales Manager Ann Morrissey not only has a billet for the event playing in the girls' football competition but also has her daughter Keelan competing for Tauranga Intermediate in the Cheerleading.

The McFall Fuel Gazebo is at the Netball at Harbourside Netball Centre in Mount Maunganui being used by the Bethlehem College Year 7 Invitation Team coached by CEO Sheryl Dawson. The young team has managed to work their way into the B Division which is no mean feat given that the majority of the players are Year 8. With 96 teams competing in the netball they have worked their way into the top 64 which is great preparation for 2016.