News
EXCITEMENT ABOUT THE NEW HEAVY FLEET TRAILER AND TRACTOR
7 May 2019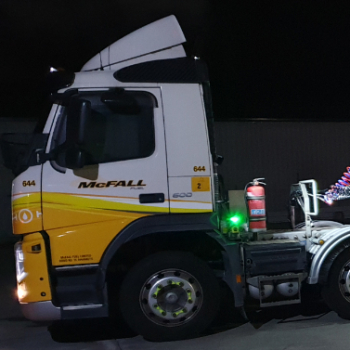 What a beautiful looking rig! For those of us who are not trucking knowledgeable people a description of what the new heavy fleet trailer and tractor are all about was needed from McFall Fuel Logistics Manager, Scott Jeanes.
The Trailer is fleet number 3795 and is a 4 axle (Quad) 6 compartment 45,000 litres total, carries approximately 37,000 litres of motor spirits & 32,000 of diesel at 44 tonne. It is currently getting towed by an ex oil industry 2014 Volvo FM500 8x4 that has done over 1,000,000 kilometres and will be getting replaced with a new 2019 Volvo FM540 tractor unit landing late August. Then we will be running this combination on a HPMV permit at 48 tonne on selected routes.
This is an exciting development for McFall Fuel and is part of the push to have a fit for purpose heavy fleet to meet the varying customer delivery needs across the North Island.