News
HEALTHY MINDS - WAIPA KING COUNTRY LIFE EDUCATION TRUST
17 May 2021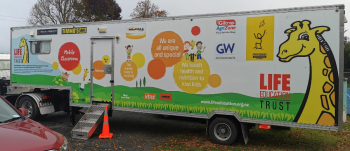 McFall Fuel are a very proud sponsor of the Waipa King Country Life Education Trust who now have two mobile classrooms fully active to meet the demands. In February they launched 'Healthy Minds' to support the youngsters in the schools visited with resilience and strategies to manage anxiety.
Our complex and ever changing world has seen social media create social pressures and uncertainties. Just as adults are worried about their futures so too are young people as the Healthy Harold Feedback revealed in 2020 when 86% of school teachers' identified that anxiety was an issue or very much an issue for their students. Loneliness, discrimination, harmful environments, and social pressures are all part of this stress.
Let's hope Healthy Harold can lead the way and help these youngsters to learn how to be resilient and meet the challenges that come their way.