News
NORTH ISLAND TRUCK RUN
18 October 2018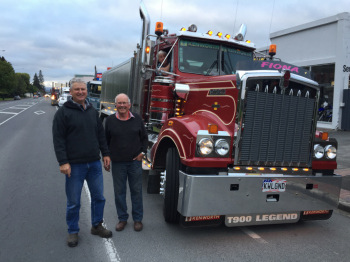 The North Island Truck Run is underway and is a great event to follow as Graeme Skou and those who are part of it drop in on a number of towns on their way around the North Island.
Running from October 14 to 27 below are the places that they will call in on! It may be your town they visit.
McFall Fuel are proud to sponsor such an awesome event.
14th October: South Island Trucks cross over on ferry from Picton to Wellington. Meat at Mana Boat Club.
15th October: Leave Mana 8.30am, arrive Levin for morning tea to Bucko's workshop. Lunch Wanganui Carolines Boat Shed, leave Wanganui at 1.30pm and drive Surf Highway to New Plymouth and stay at Century Hill Hotel.
16th October: Leave Century Hill and visit car museum on corner main highway, 100m up from Century Hill, the 10.30am arrive at Vickers Quarry at Stratford, Lunch at Whangamona Hotel at 12.30pm then onto Taumaranui RSA.
17th October: Morning tea at Waimeha Sawmill then travel to Bennydale then on to Takapapa Farm Park, onto Cambridge Domain at 4.00pm, dinner at Town Hall.
18th October: Breakfast at Ross Bros (CR Developments). 10am visit Alf Williamison shed, lunch at Peter Phillips at Atiamuri. Visit Graeme Mansons shed at Rotorua.
19thOctober: Visit Malcom Cab Solutions, then lunch at Murupara. Visit beer can shed in afternoon then drive to Whakatane. Fish and chip night at Barry Caulfields, Elvis Night as well.
20th October: Truck part auction at Caulfields.
21st October: Drive to Gisborne, 2 options – 8hrs around Hicks Bay or down Waioeke gorge, which is 4hrs.
22nd October: Late start – do your own breakfast. Park up at train station, either do bulldozers by bus or train trip about 2hrs. Williams and Wilshire yard visit.
23rd October: Mahia pub for lunch then visit school, visit Wairoa. Drive to Hastings.
24th October: Visit to Gannets by tractor ride 9.30am to 2.00pm.
25th October: Travel to Ngamatea for lunch then onto Feilding for evening / Dinner at Total Stockcrates
26th October: Coachouse Museum, Feilding, leave at 90.30am and travel over Saddle Road to Paul Glessons truck museum, lunch at Tui Brewery at 12.30pm. visit Jackson Engineering at 2.00pm. Dinner at RSA Greytown.
27th October: 8.00am Breakfast at Garrity Bros then all finished at 10.00am.