News
REBECCA PETCH FOCUSSED ON BEING AT THE TOP
23 July 2018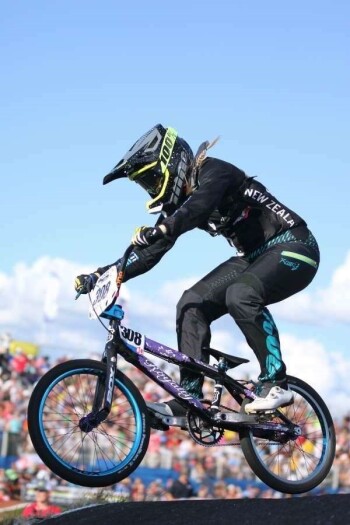 On the Way to World Champs
The weekend following the world cup events she raced in two European Cup rounds which were held in Blegny, Belgium. This event was only held on a small track with a 5 metre starting hill. There were not a great number of riders there but still a good few of the fast riders were there to compete against. Although this track was not Rebecca's favourite type, it was still good to get some more racing in. She was happy to come away from the weekend with two podium finishes in 3rd place!

World Championships in Baku
"Next I had a 10 hour drive to Copenhagen where I was staying and training for 2 weeks leading into the World Champs. This was the best preparation I have had leading into any World Champs I have attended. There was an 8 metre starting hill only 3 minutes from where I was staying which was so ideal! From there I flew to Baku, Azerbaijan for the World Championships. I was feeling confident going into this and was injury free (an added bonus). Baku is known to be a windy place and on our first practice day it was so windy that you could not even ride in a straight line. Because of this our practice and race day got postponed to the following day. Once race day finally came around I was super excited to get racing. I loved the track and felt that I adapted to it really well. In my moto's I placed 2nd, 3rd and 2nd so I transferred through to the 1/4 finals. I placed 4th and was so stoked because it meant I qualified for the semi-finals. Unfortunately this is where my worlds ended with a 6th place. Overall I placed 11th, I am really happy with my efforts with it only being my 2nd year in Elite Women.

Returning Home to Train
With World Championships over, Rebecca is home having a couple of down weeks break before getting back into training. This will mean getting ready for her next big race which is a World Cup event, held in Argentina in September. This is also the start of the Olympic Qualifying.