News
MCFALL FUEL THE ENERGY BEHIND MATAWAI SCHOOL AG DAY
14 November 2019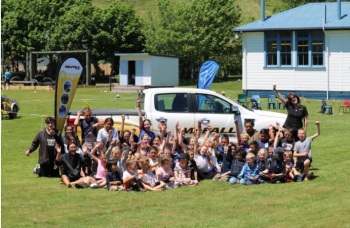 McFall Fuel's Gisborne sales representative Rochelle Smith said "Matawai School Ag Day represents everything that's special about living in a rural environment. This is one of my favourite work days all year. It represents everything about what it's like to live in a community that still respects the traditions of a rural lifestyle."
The strong association between McFall Fuel and Matawai School Ag Day is in its fourth year and as usual Rochelle brought enthusiasm and vitality to her role as animal and craft judge. "I love it! It's a great place to be social with customers and a way for us to give back and show our support for their loyalty."
In a modern twist on the 100-plus year traditional rural event, students and families were invited to create windchimes, mobiles and planters for a hotly contested craft competition. Rochelle, who judged the craft event, said "entrants of all ages were encouraged to use natural materials or recyled bits and bobs from around home and the farm to build their unique constructions. The entries were as varied as they were stunning. Windchimes made from spoons, copper pipes, horseshoes and keys, hung alonside mobiles made from deer antlers, bullet casings, and a teapot. Planters were created in Tonka toys, tyres, suitcases and even a pair of roller skates."
"The standard was high and some of the designs would have given established craft shops a run for their money."
Rochelle awarded the Year 8 windchime or mobile first prize to Kaylon Downs for her forestry inspired industrial strength windchime made from a safety helmet, boxed steel and a chainguard. Second prize went to Ruby-Rhain McIntyre who created a fairytale mobile from shells, mirrors, and glass beads hung from an upcycled lampshade.
"I stayed up most of the night finishing it," says Ruby-Rhain, who lives on a dairy farm in the district.
"Matawai School's Ag Day is a community institution and these days McFall Fuel is an integral part of it," said Principal Glenn Knight. "As well as Rochelle's time and judging expertise, McFall Fuel donates food the school sells to the regular 200-strong crowd. Locally donated goods and services supplement our ability to provide well-maintained facilities and events for our students and the community so we're extremely grateful for the ongoing support from McFall Fuel."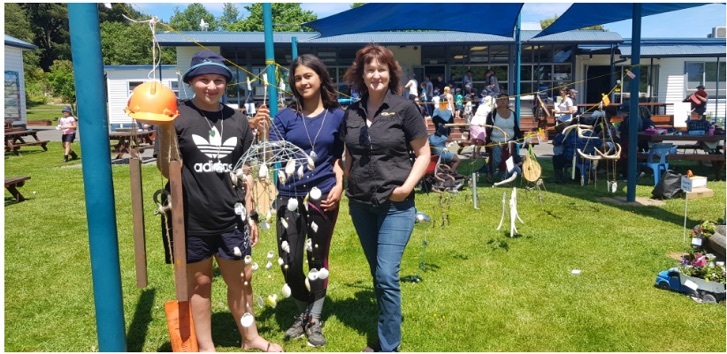 Year 8 students Kaelyn Downs and Ruby-Rhain McIntyre take our first and second place in the Windchime or Mobile Competition judged by McFall Fuel Gisborne Sales Representative Rochelle Smith at this year's Matawai School Ag Day.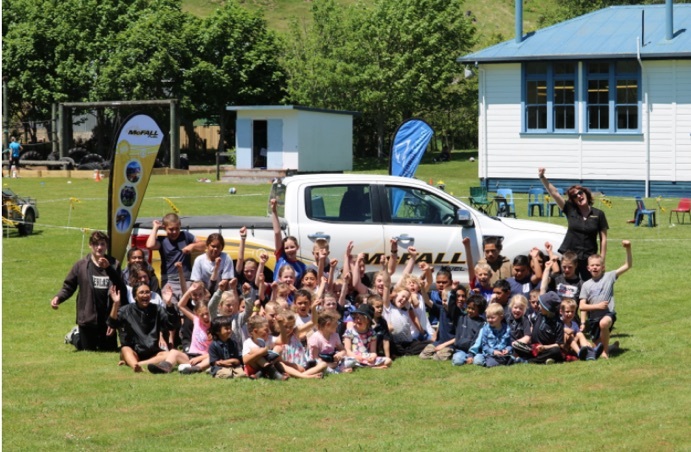 Matawai School students and Rochelle Smith from McFall Fuel celebrate their four years of close association at this year's Matawai School Ag Day. Rochelle judged lambs, dogs, other pets and craft at the traditional rural school event which has been running for over 100 years.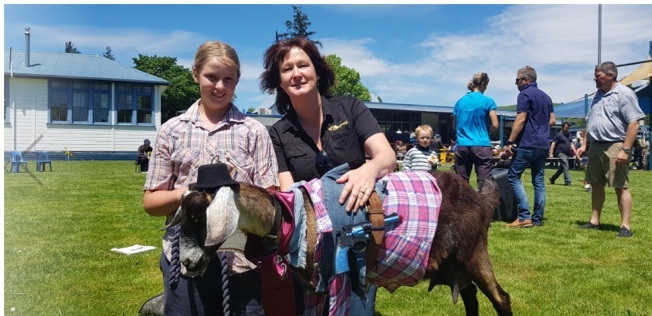 Mcfall Fuel Gisborne Sales Representative Rochelle helped judge Giggles the goat belonging to Anaya Blank as Supreme Pet at this year's Matawai School Ag Day. Rochelle judged a range of livestock and craft competitions involving Matawai School's 55 students as well as four home-schooled youngsters from around the district, including Anaya.