News
The Rally of the North - Paihia
14 September 2015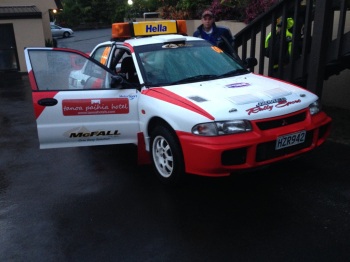 McFall Fuel Direct To You Operations Coordinator Mitch James was invited to be the lead car or the 00 car for the Rally of the North. The role of the 00 Rally car is to check the road that the cars will race on going through at rally pace to ensure that everything is all good.
Running blind through the 8 stages without any pace notes apart from the intersections was a great challenge for Mitch and his Dad who drove three of the 8 stages.
"The last time dad drove was a few years ago and the 40 kilometre second stage on hard rock was tight and twisty and he became a little car sick," said Mitch.
"These are probably the best roads I have ever driven and given that National Champs are here next year it was pretty exciting."
"The morning was wet but it dried out in the afternoon and we were really pleased to finish 8th fastest as the safety car."